Nuewee Organic Super Green Juice with Sea Buckthorn brings you 8 of the world's healthiest organic superfoods, together in one convenient and tasty scoop.
Each ingredient is carefully selected for its renowned nutritional qualities. Together these superfoods help to reset your metabolism, cleanse your system, and fuel sustained energy.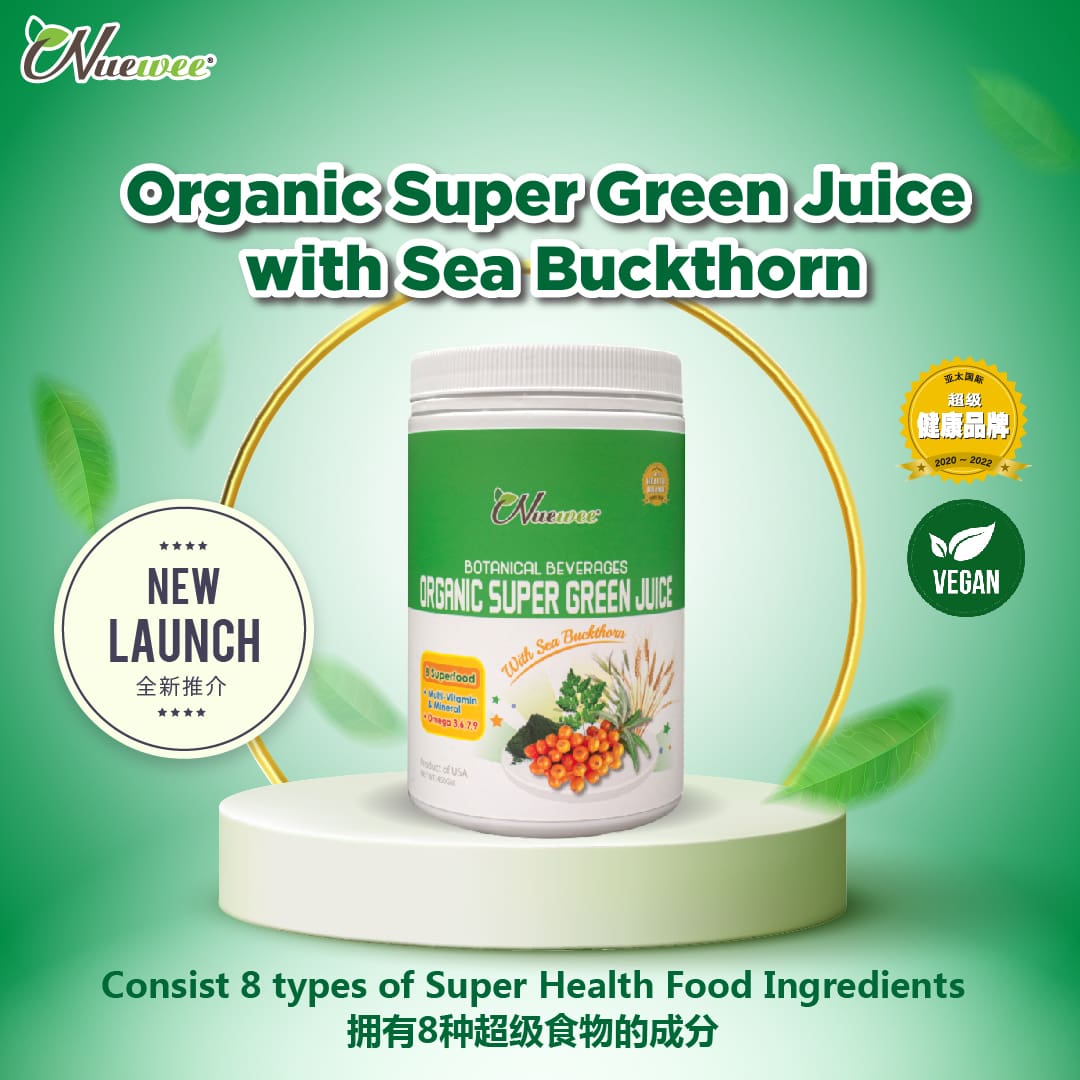 You'll find alkalizing ingredients like organic spirulina, barley grass, alfalfa grass, wheat grass, oat grass, kale, moringa plus even more antioxidant and immune boosting ingredients in our Nuewee Organic Super Green Juice. Sea Buckthorn (Hippophae rhamnoides) is a plant native to Europe and Asia. The leaves, flowers, seeds, and fruits are all used in traditional medicine. Sea buckthorn has been used for hundreds of years in Russia and China for its medicinal and nutritional properties. It has traditionally been used to slow the aging process. It is rich in vitamin A, B1, B2, C, E, Flavonoids, Folic Acid, mostly notably antioxidant such as lycopene, and essential fatty acids such as Omega 7, and rich source of potassium, calcium, magnesium, manganese, copper, zinc, chromium and selenium.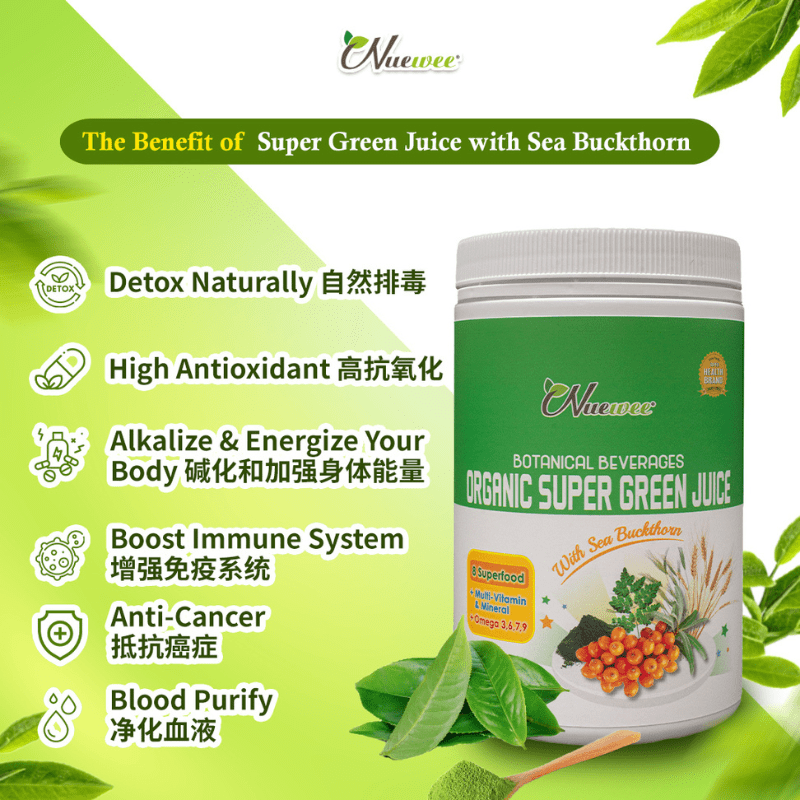 Benefits of Nuewee Organic Super Green Juice with Sea Buckthorn:
Alkalize & Energize Your Body

Prevent Constipation & Bad Body Odor

Detox Naturally
High Antioxidant
Boost Immune System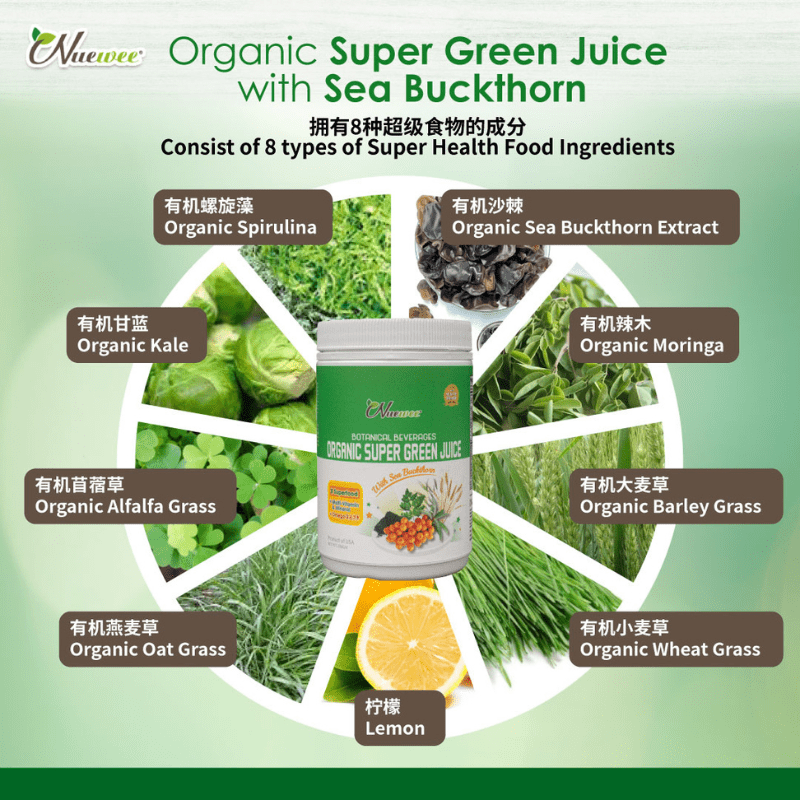 Ingredients of Nuewee Organic Super Green Juice with Sea Buckthorn:
Organic Barley Grass, Organic Wheat Grass, Organic Kale, Organic Oat Grass, Organic Alfafa Grass, Organic Moringa, Organic Spirunila, Organic Sea Buckthorn Extract, Lemon & Fructose.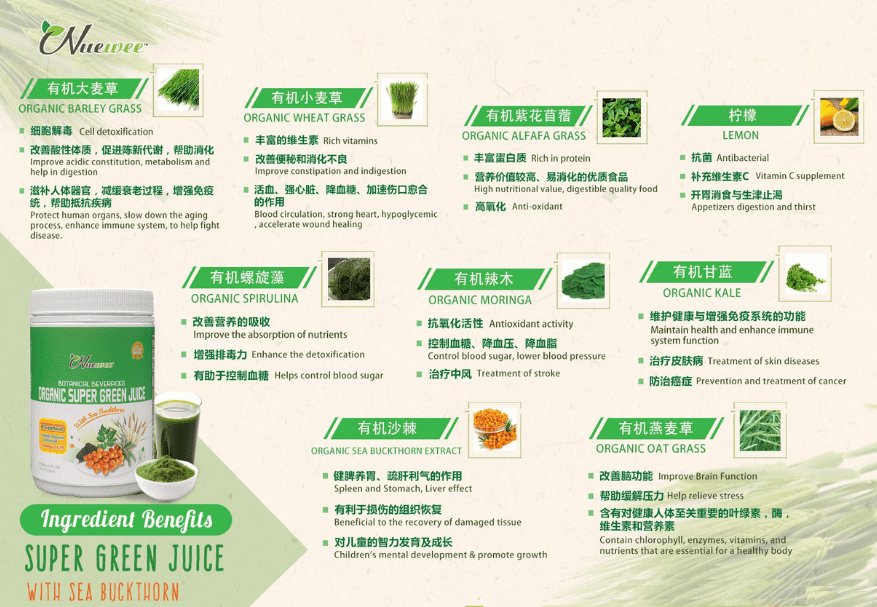 Recommended Serving:
Mix 1 scoops (8gm) of the Nuewee Organic Super Green Juice with 150ml warm water. Stir well and serve.