The best vegan pea protein in Malaysia
Nuewee Organic Pea Protein Isolate Plus is a dairy-free, gluten free protein derived from peas, our certified organic pea protein powder in Malaysia is 100% pure and supremo source of plant protein for those with soy or gluten allergies. Nuewee Organic Pea Protein Isolate Plus provides a comprehensive amino acid profile with 20gm of protein in every scoop. Our pea protein in Malaysia help muscles recover after working out and it is considered one of the best protein sources for vegans and vegetarians due to its balanced amino acid spread and high protein concentration. We love pea protein Malaysia in a smoothie with berries or in oatmeal and pancakes.
Pea protein powder is a protein supplement derived from yellow peas. It's commonly used to boost the protein content of smoothies and shakes, and it's a great fit for almost any diet because it's naturally vegan and hypoallergenic. Pea protein is a high-quality protein with high iron content. It can help with muscle development, weight loss, and heart health. Pea protein mixes well with water and has a less gritty or chalky texture than hemp protein powder. While pea protein powder is safe for most people, anyone with a pea allergy, sensitivity, or intolerance should avoid it.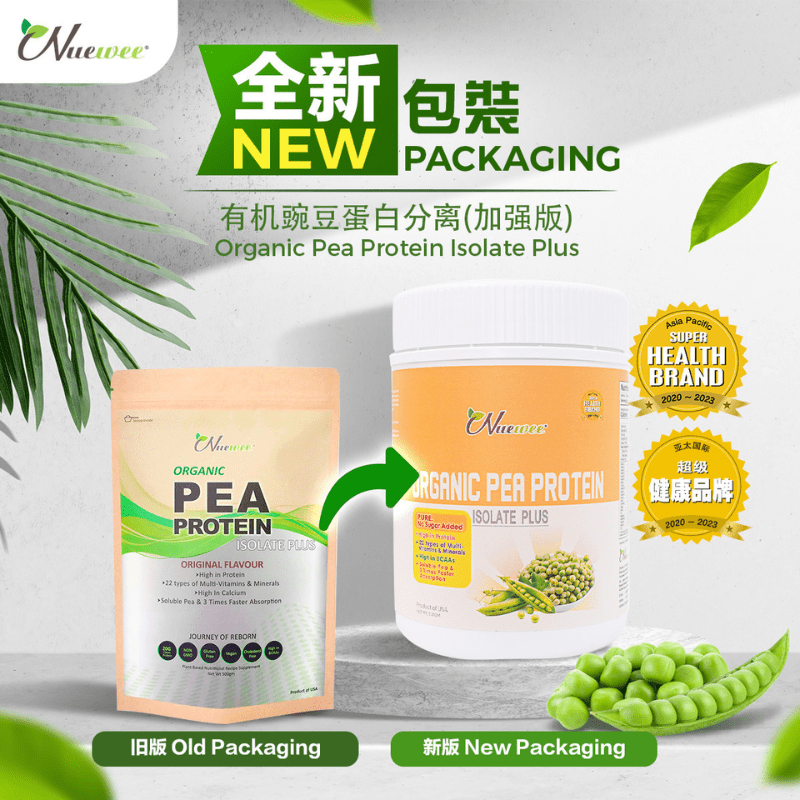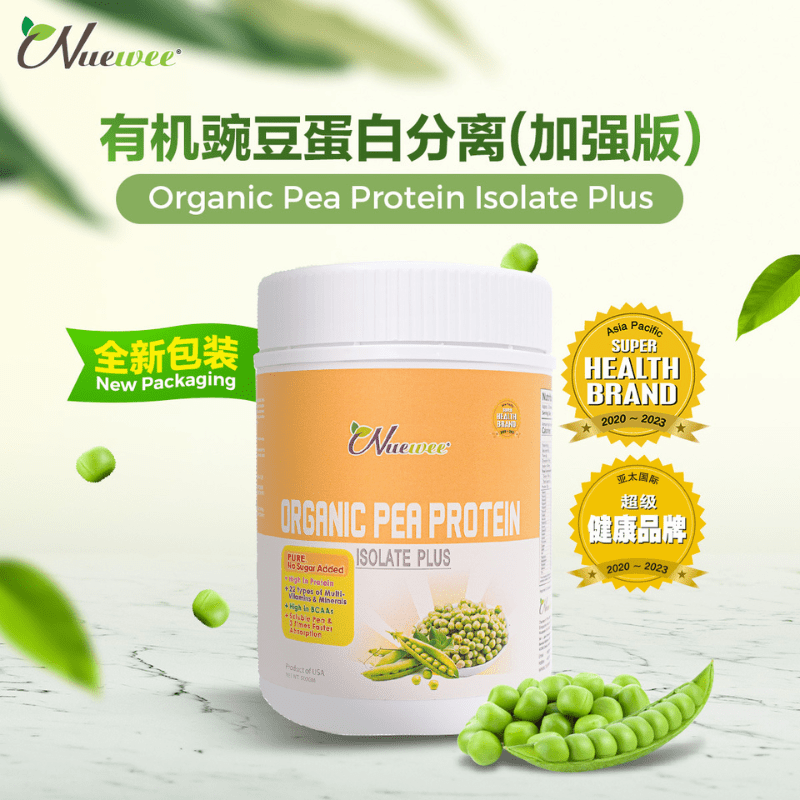 Why Nuewee Organic Pea Protein Isolate Plus?
Nuewee Organic Pea Protein Isolate Powder Plus is high in protein and calcium, loaded with multi- vitamins and multi-minerals. It's also highly digestible and can be swapped out with animal-based protein powder.
Nuewee Organic Pea Protein Isolate Plus rich in branched chain amino acids (BCAAs) can help keep your body in a muscle building state throughout day, decrease belly fat, keep your full longer between meals, energize your workouts, and much more. You'll love its versatility; add it to soups, baked goods, smoothies and more!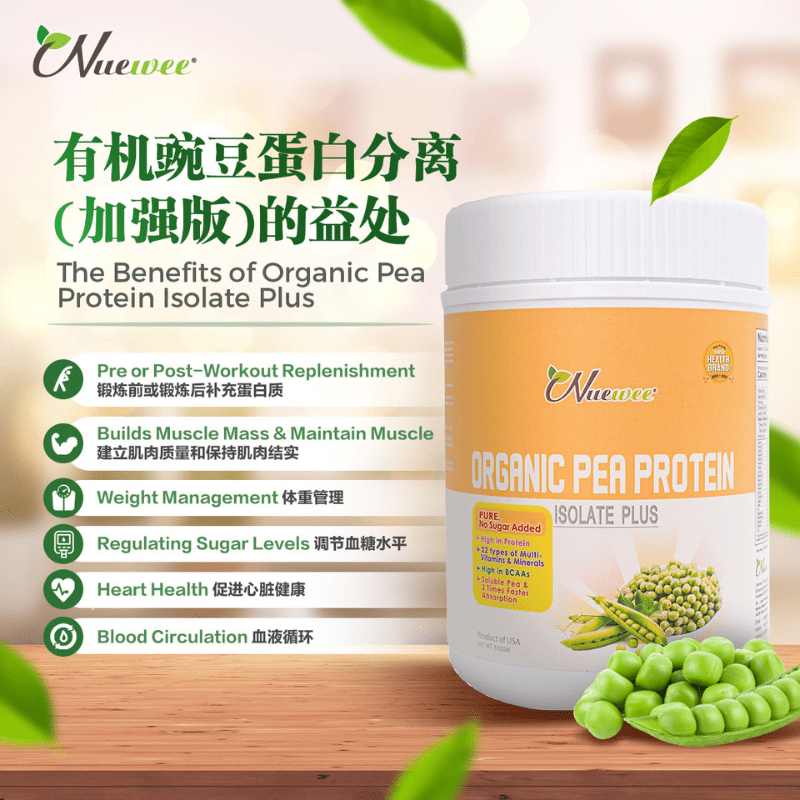 Nuewee Organic Pea Protein Isolate Plus suitable for:
Busy and Active Lifestyles
Builds Muscle Mass and Maintain Muscle
Support Healthy Weight Management by Suppressing the hunger hormone, ghrelin.
Heart Health and Promotes Cardiovascular Health
Regulating Blood Sugar Levels
Supports Blood Circulation
Pre or post-workout replenishment
A nutritionally complete base for smoothies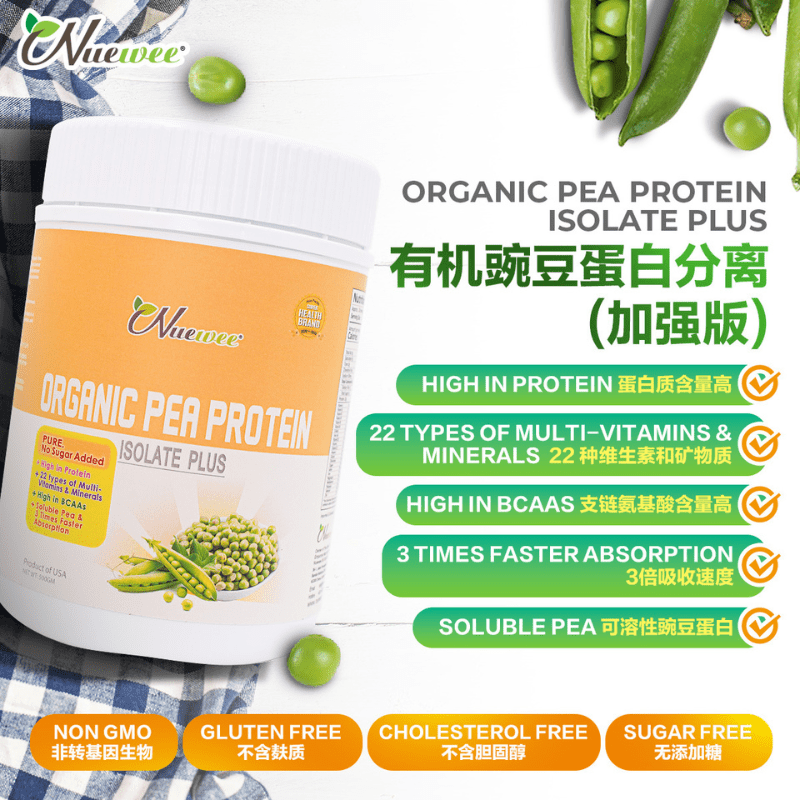 Ingredients of Nuewee Organic Pea Protein Isolate Plus:
Organic Pea Protein Isolate, Vitamin A, Vitamin B1, B2, B3, B5, B6, Biotin, Folic Acid, Vitamin B12, Vitamin C, Vitamin D3, Vitamin E, Calcium, Chromium, Copper, Iodine, Iron, Magnesium, Molybdenum, Potassium, Selenium and Zinc.