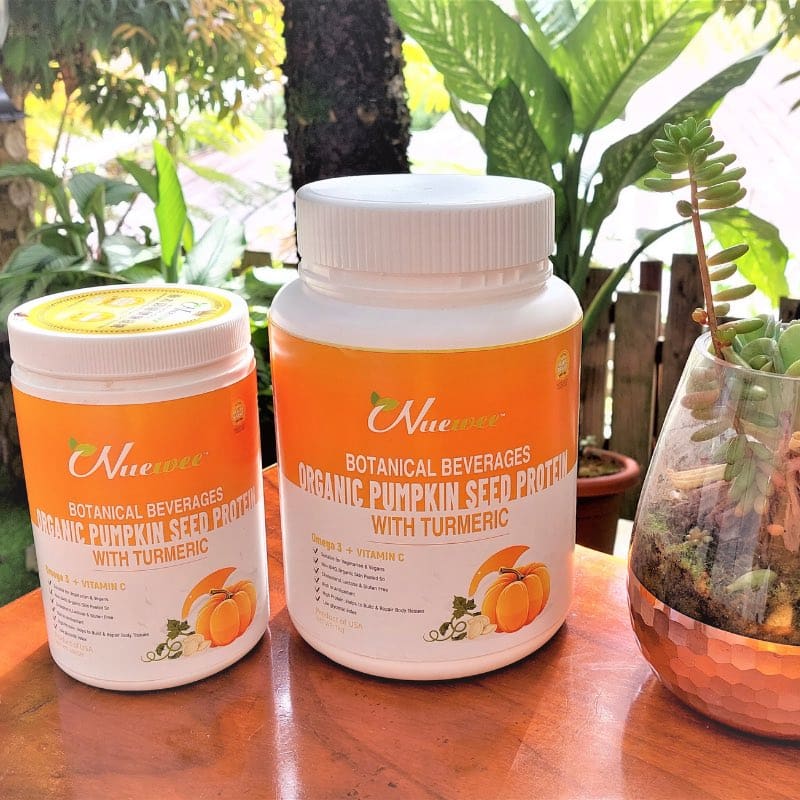 The best vegan protein in Malaysia
According to WHO, chronic disease is responsible for 74% of global deaths, which is rising yearly. Chronic diseases are the result of chronic inflammation in our bodies.
Nuewee Organic Pumpkin Seed Protein with Turmeric, vegan protein powder in Malaysia can aid in treating chronic inflammation and, ultimately, the prevention of hundreds of chronic diseases. Furthermore, our vegan protein in Malaysia can suppress virus replication, preventing viral disease spread and assisting in the recovery of Hepatitis B, H5N1, and Covid-19. Pumpkin seeds are small, but they are high in nutrients. Even if you only consume a small amount of them, you will get a lot of healthy fats, magnesium, and zinc. In addition, antioxidants such as carotenoids and vitamin E can be found in pumpkin seeds. Antioxidants can aid in reducing inflammation and protect your cells from free radical damage. As a consequence, eating foods high in antioxidants can help defend against a variety of diseases. It is believed that the elevated levels of antioxidants in pumpkin seeds contribute to their health benefits. For example, pumpkin seeds have been shown to soothe benign prostate enlargement and overactive bladder symptoms.
Nuewee Organic Pumpkin Seed Protein with Turmeric, vegan protein powder in Malaysia has a strong anti-oxidant and anti-aging effect because it contains the most powerful anti-oxidant known to date – Hydroxytyrosol from Olive Extract. In addition, the European Food Safety Agency has also recognized its effect on cardiovascular health (EFSA).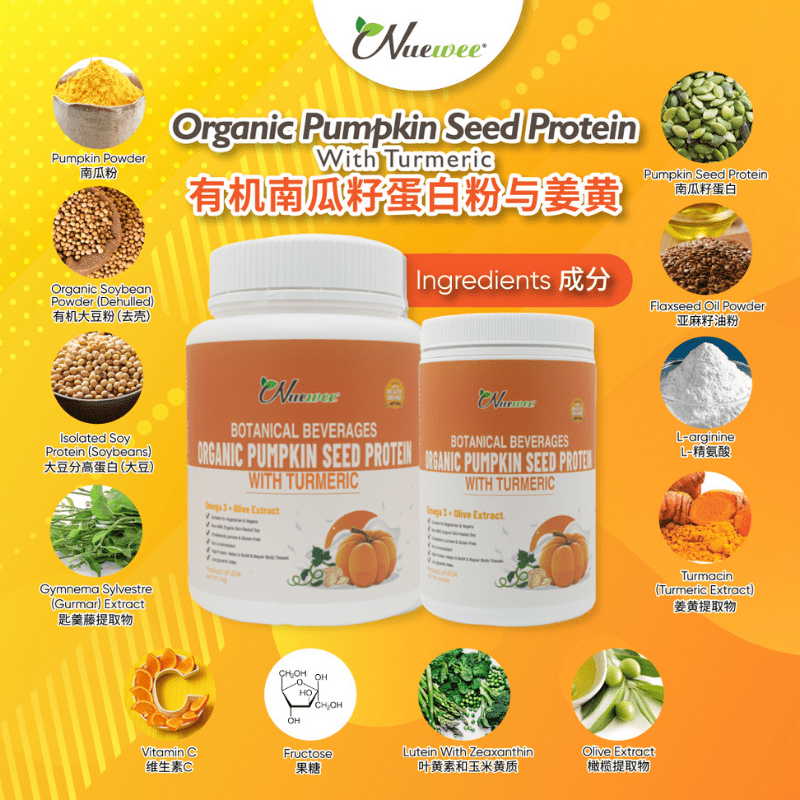 3 Major Functions solve more than hundreds of health problems:
Control Chronic Disease – Prevent Nervous system disease, Autoimmune disease, Arthritis, Diabetes, Alzheimer's disease, Cardiovascular disease, Cancer, Pulmonary Disease, and Osteoarthritis

Anti-viral effect – Help suppress virus replication (e.g., Hepatitis B, H5N1, and Covid -19).

Anti-aging – Liver protection, Skin protection, Eyes protection, Prevent muscle degeneration, and Improved brain processing speed.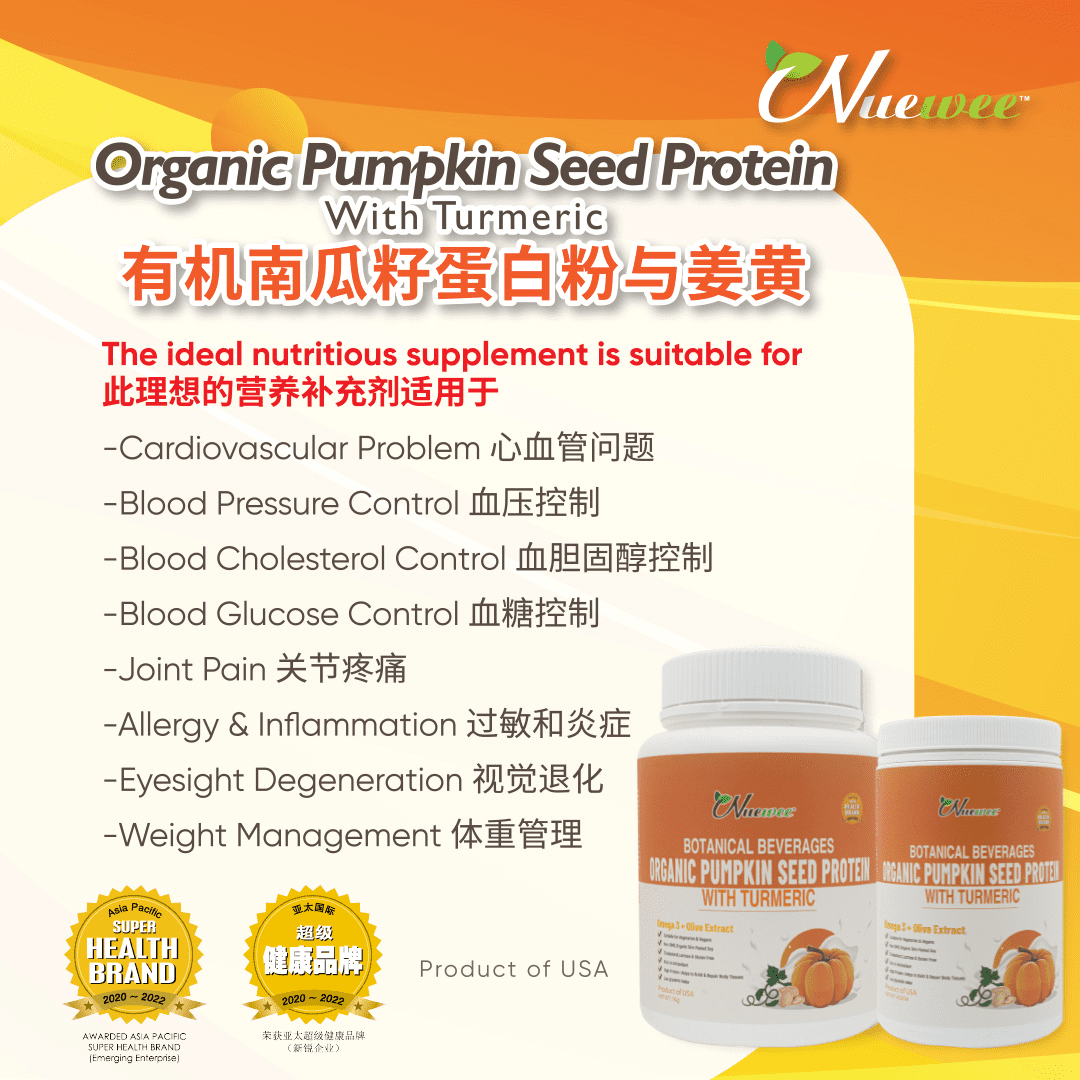 Nuewee Organic Pumpkin Seed Protein with Turmeric, vegan protein in Malaysia is appropriate for people suffering from:
Cardiovascular issue

Blood pressure issue

a problem with blood cholesterol

Problem with Blood Glucose

Joint discomfort

Allergies and Inflammation

Degeneration of vision

Obesity