The best meal replacement shakes in Malaysia
If you are looking for a meal replacement drink in Malaysia, Nuewee Organic Banana Protein with Tiger Milk Mushroom is one of the delicious alternatives to dairy milk. It is a pure, unsweetened version and deliver the satiety and allow you to enjoy the benefits of soy protein at the same time.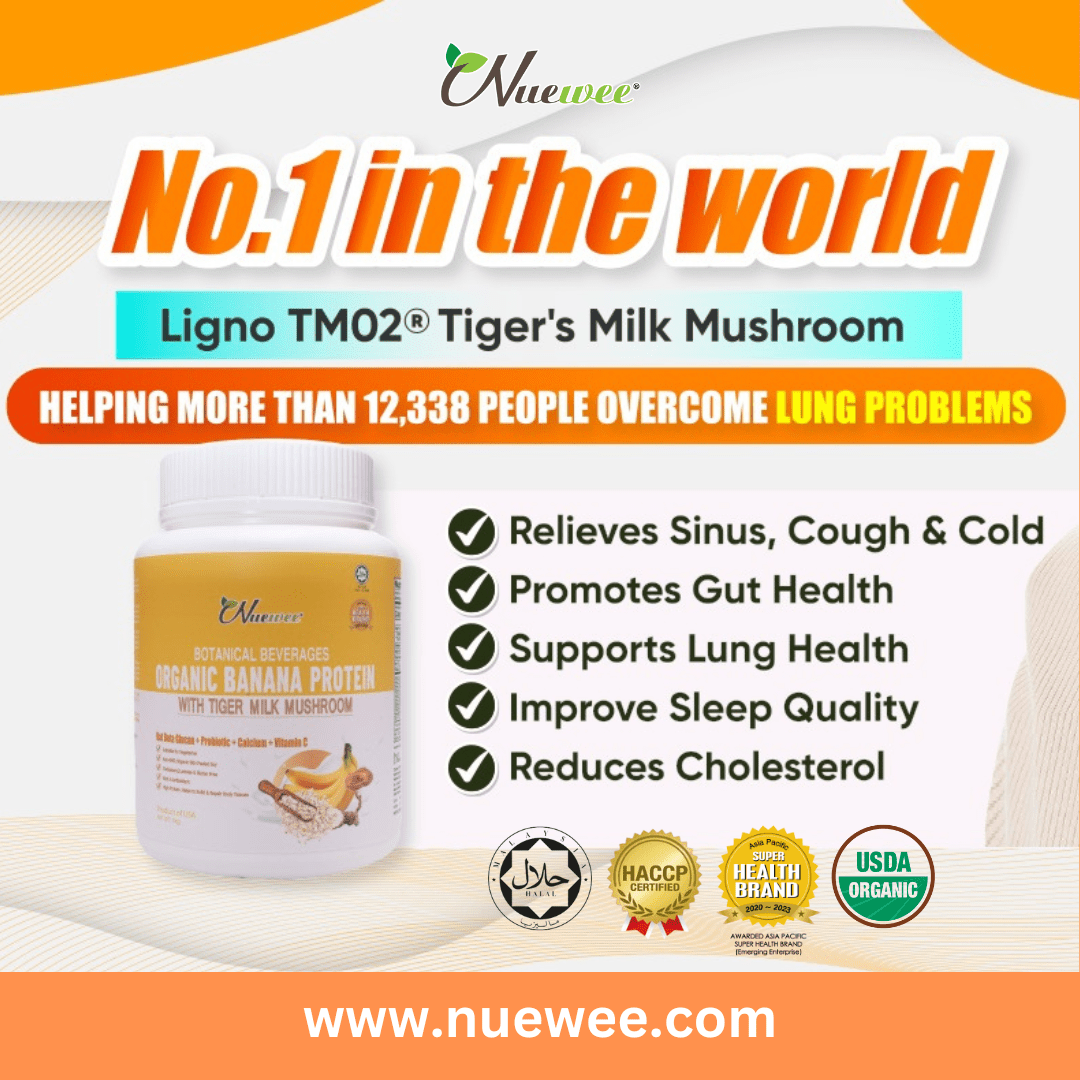 Nuewee Organic Banana Protein with Tiger Milk Mushroom is a delicious vegan friendly protein drink. It is a protein-rich beverage fortified with tiger milk mushroom (LiGNO TM02®), oat beta-glucan, natural vitamin C (from acelora cherry) and multi-strains probiotic. It allows you to start your day with a healthy and great tasting breakfast drink at the same time providing multiple health benefits.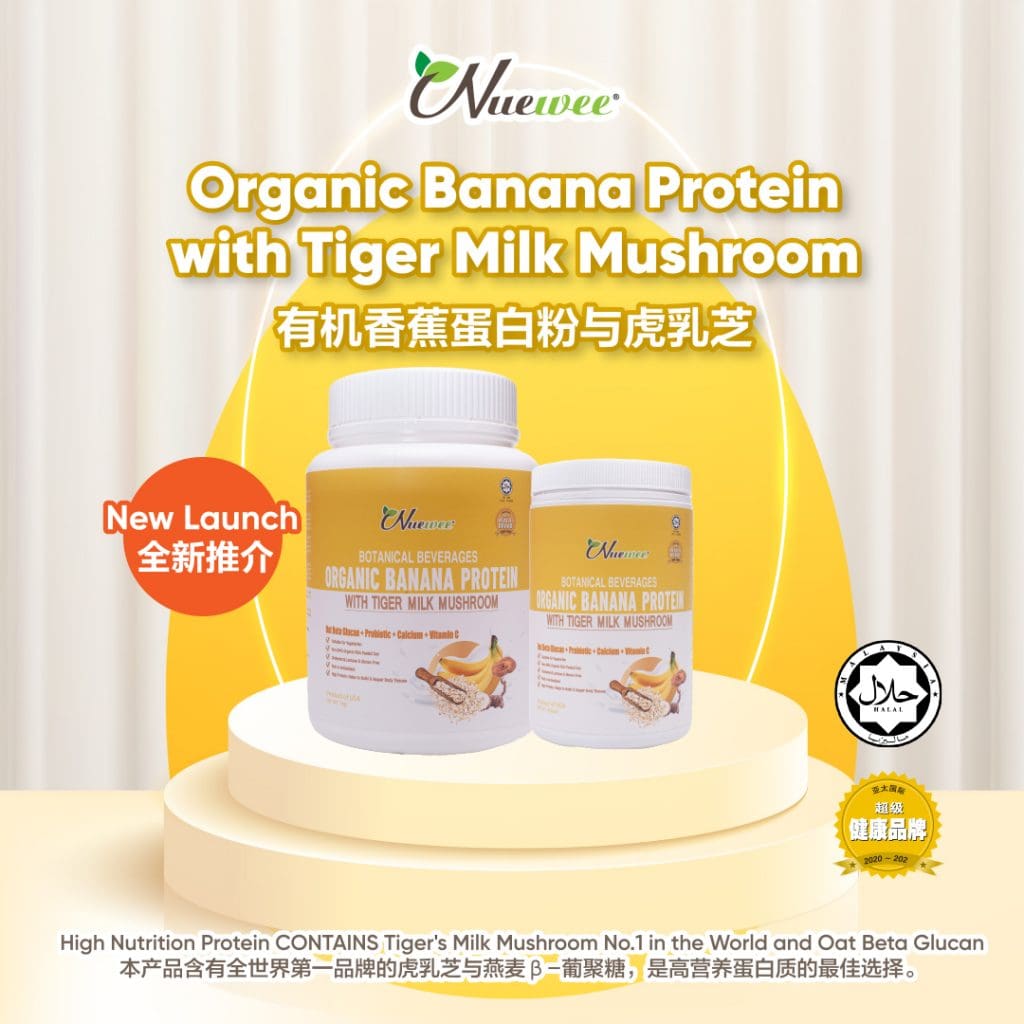 Tiger Milk Mushroom known as Malaysian National Treasure. It has more than 400 years history of use to treat lung & respiratory diseases. LiGNO TM02® is the world's renowned Tiger Milk Mushroom brand, whereby they are the pioneer and first in cultivation of Tiger Milk Mushroom.
Tiger Milk Mushroom is a nutritional supplement that can help you keep your lungs healthy. It is formulated with the main ingredient of Tiger Milk Mushroom. Our lungs are very important, we must protect our lung health systemt.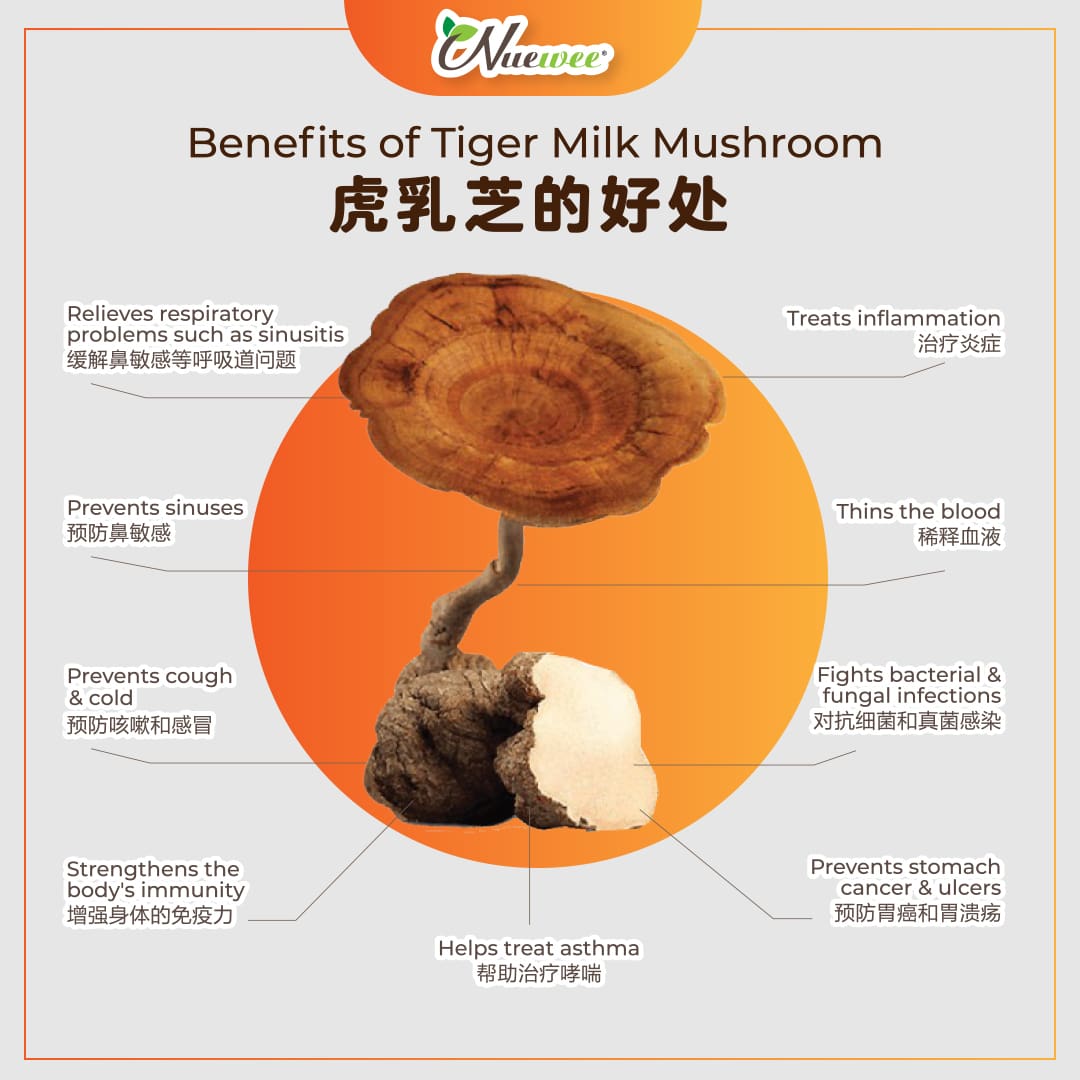 Tiger Milk Mushroom has 5 main functions:
• Anti-allergic, anti-inflammatory, antibacterial and antioxidant
• Relieve cough, rhinitis and allergies
• Maintain a healthy immune system
• Enhance the systemic function of the respiratory tract
• Boosts cellular oxygen uptake
Besides, our oat beta-glucan has been proven to reduce blood cholesterol and blood glucose levels as well as support gastrointestinal health and assist in weight management.
The main functions of Oat Beta-Glucan are:
• Control high blood pressure and blood sugar
• Lower cholesterol levels
• Helps control weight
• Boost immunity
• Promotes gut health
It is now featuring our pioneering formula with Non-GMO Soy protein, Calcium and Vitamin C. Banana are high in antioxidants, high levels of B-Vitamins as well as potassium and magnesium to lower blood pressure and also important for heart health.
Probiotic helps in regulating the activities of intestinal bacteria for digestive benefits therefore will improve your digestive system, cleanse your system and enhance immunity.
Each delicious flavor has been meticulously engineered to provide a broad range of minerals, protein and an incredible 100% to help you maintain a strong and healthy body.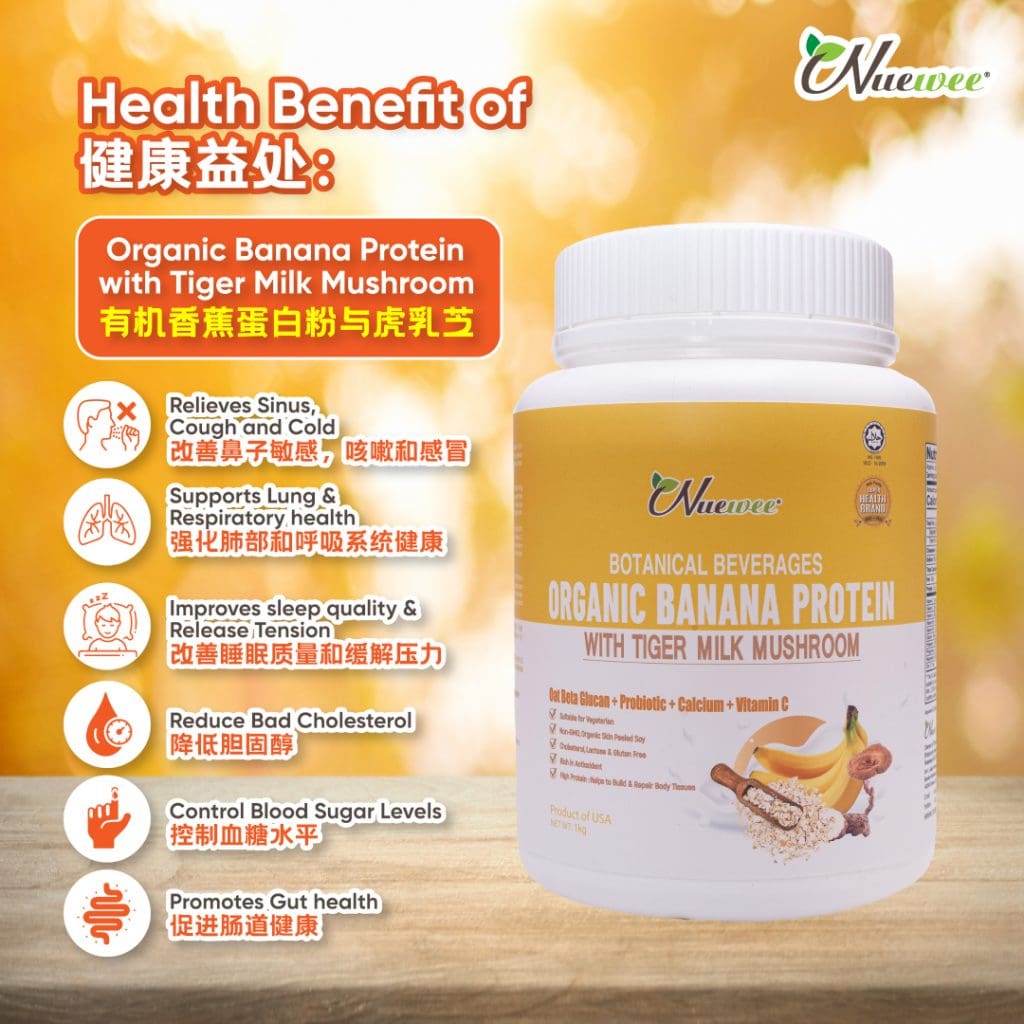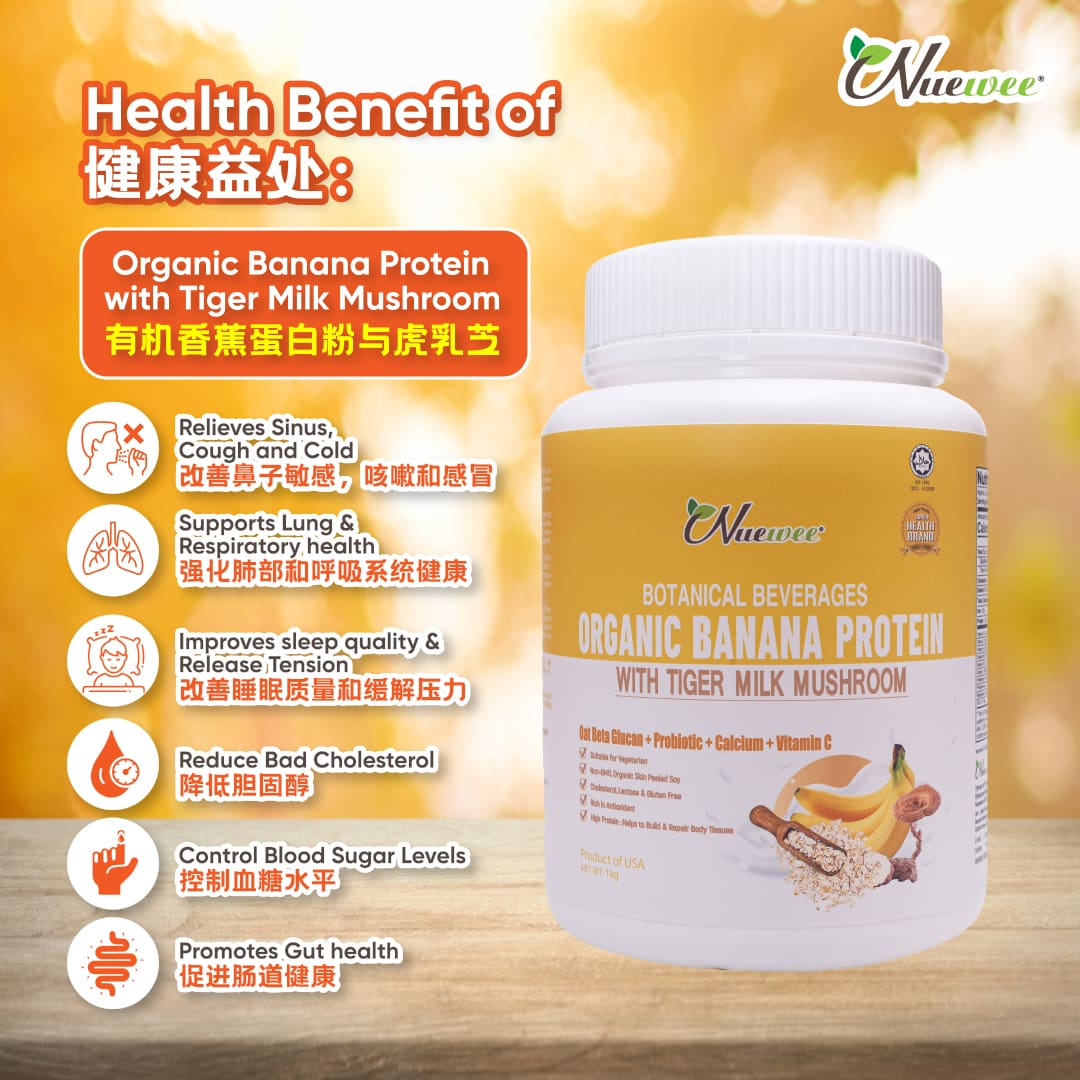 Nuewee Organic Banana Protein with Tiger Milk Mushroom is suitable for:
Relieve respiratory symptoms such as sinus, cough and cold
Supports lung & respiratory health
Supports immune health
Relieves allergies & anti-inflammatory
Improve sleep quality & release tension
Reduce Bad Cholesterol
Control blood sugar level
Promote Gut health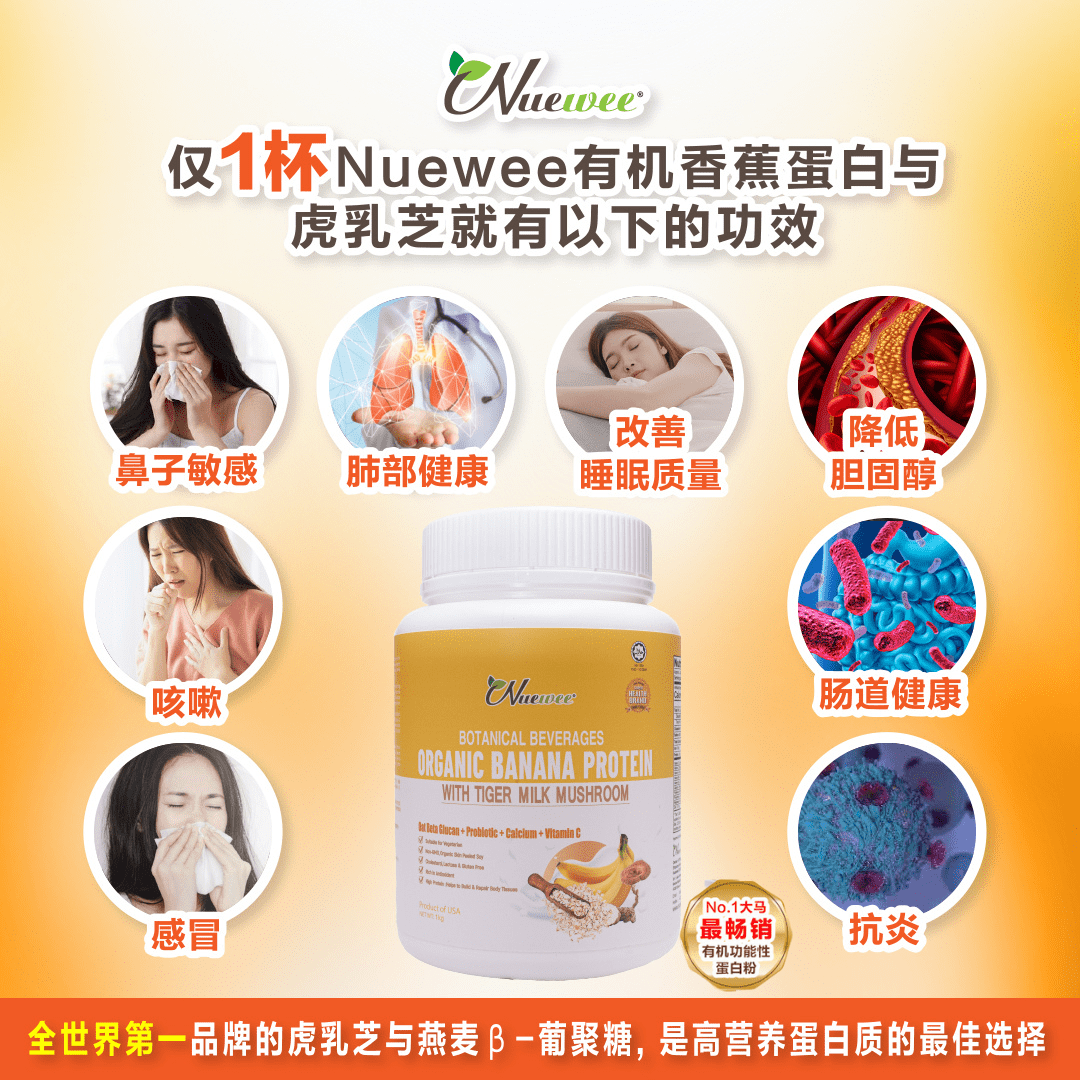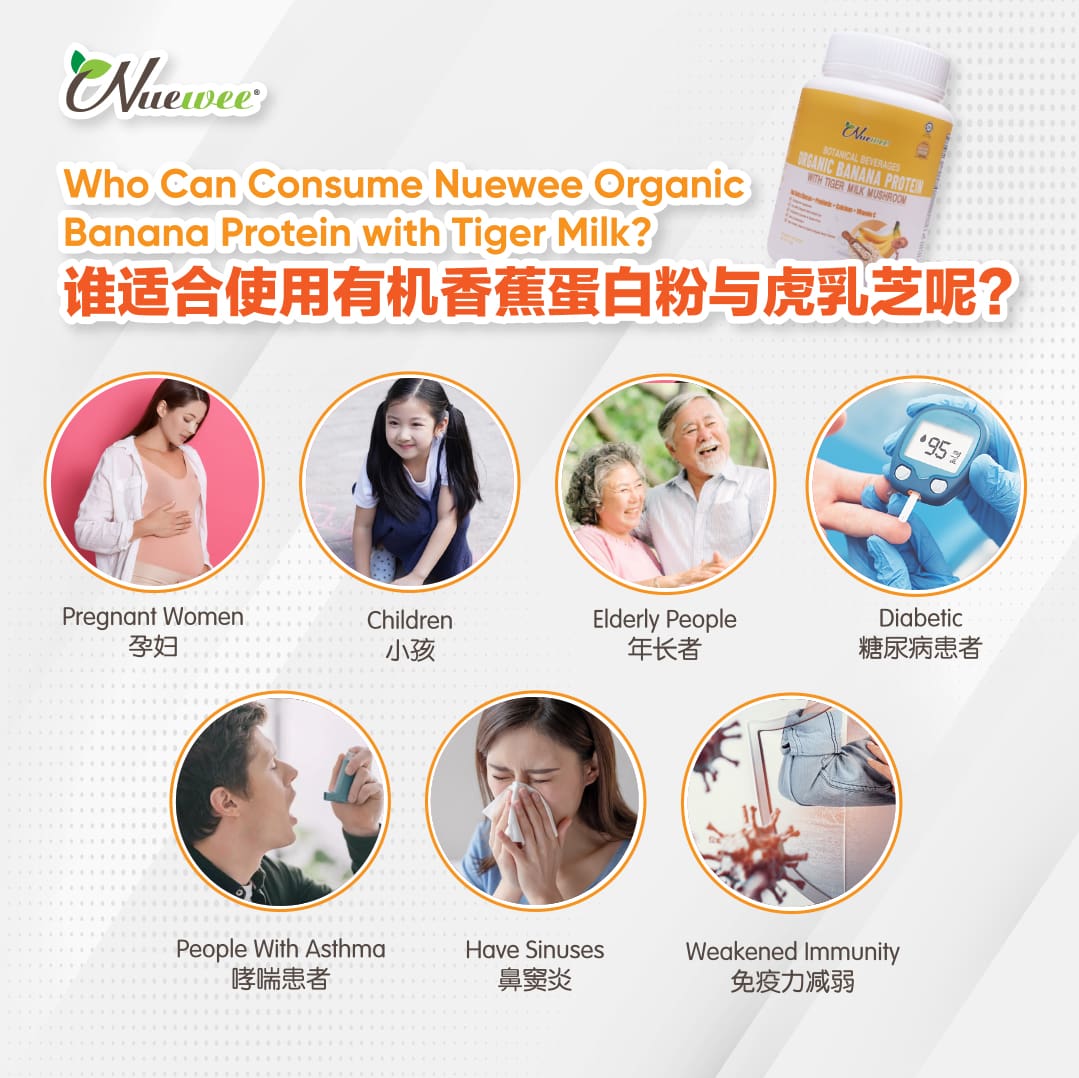 Ingredients of Nuewee Organic Banana Protein with Tiger Milk Mushroom:
Organic Soy, Banana Extract Powder, Isolated Soy Protein, LiGNO TM02® (Tiger Milk Mushroom), Acerola Powder (Vitamin C), Oat Beta-Glucan, Probiotic (Lactobacillus acidophilus, Bifidobacterium longum, Lactobacillus paracasei, Lactobacillus rhamnosus) & Stevia.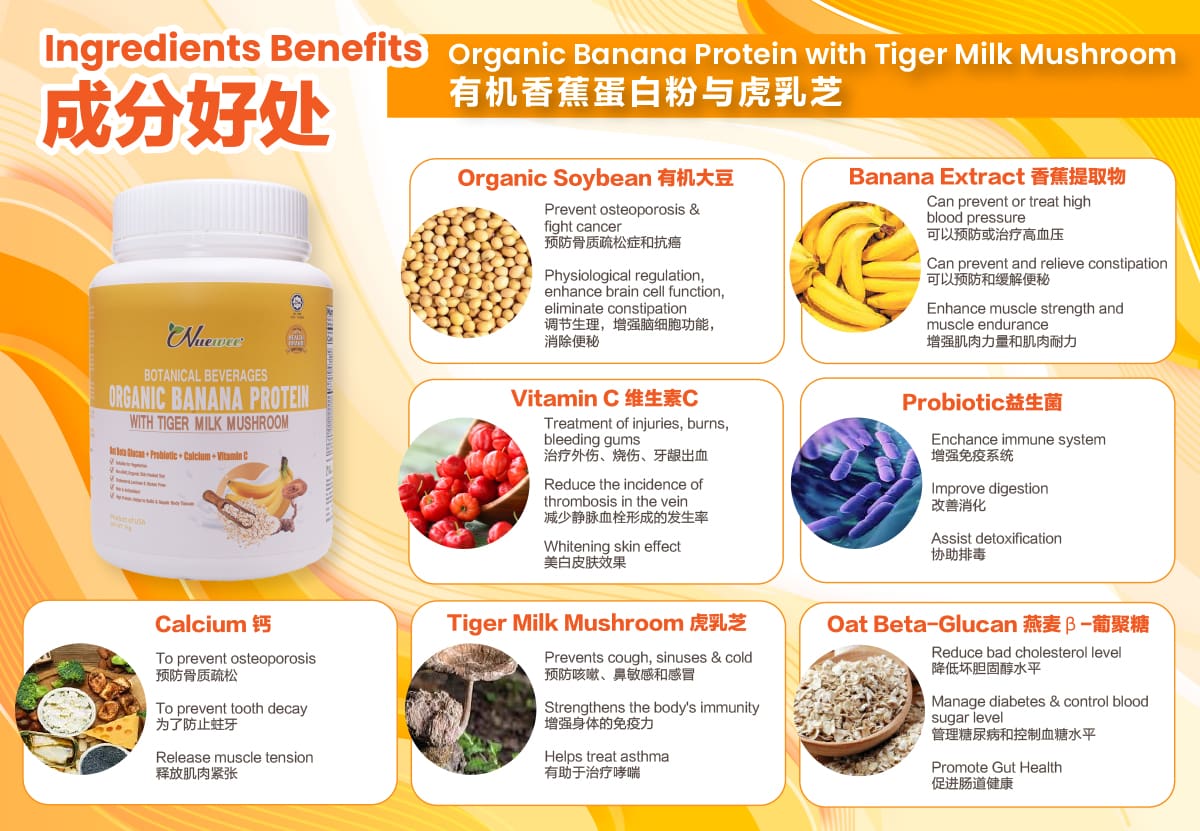 Recommended Serving:
Mix 2 scoops of Nuewee Organic Banana Protein with Tiger Milk Mushroom with 200ml cold or warm water. Stir well and serve. You may add in instant oat meal or other cereal as well.