The best meal replacement shakes in Malaysia
If you are looking for a meal replacement drink in Malaysia, Nuewee Organic Banana Protein is one of the delicious alternatives to dairy milk. It is a pure, unsweetened version and deliver the satiety and allow you to enjoy the benefits of soy protein at the same time.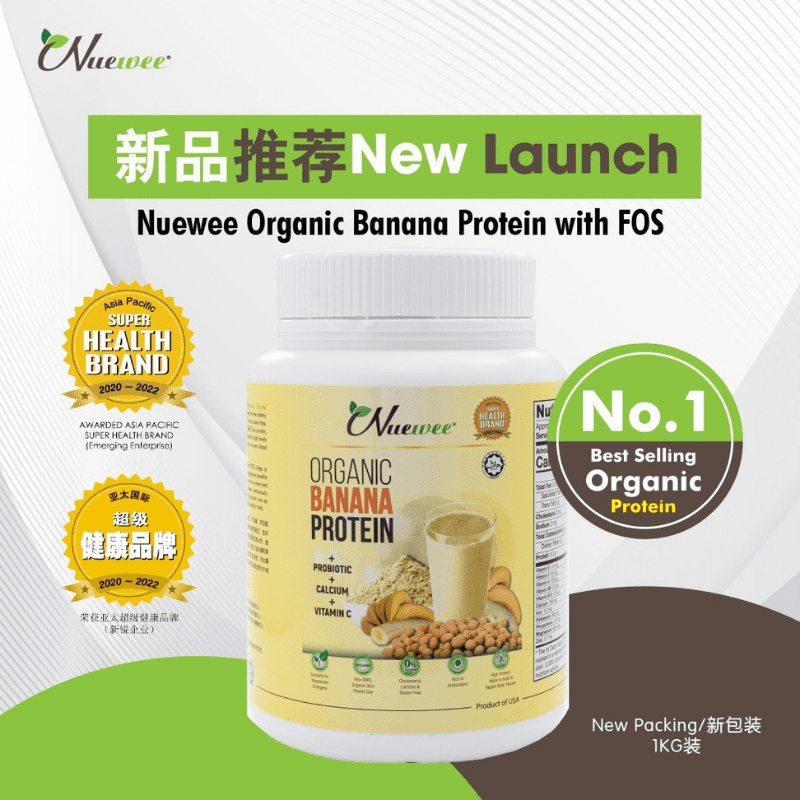 This meal replacement drink in Malaysia now featuring our pioneering formula with Non-GMO Soy protein, Calcium and Vitamin C.
Banana are high in antioxidants, high levels of B-Vitamins as well as potassium and magnesium to lower blood pressure and also important for heart health. Bananas are one of the most pocket-friendly fresh fruits and are extremely healthy, convenient, and delicious. This makes bananas an excellent choice for anyone looking to eat healthily. One banana contains almost entirely water and carbohydrates and contains approximately 112 calories. They contain very little protein and no fat. Bananas contain a lot of soluble fiber that dissolves in liquid to form a gel during digestion. The fiber is also the reason why bananas have a sponge-like texture. This means that, despite their higher carb content, bananas will not cause significant blood sugar spikes in healthy people. While people with diabetes can eat bananas, they are not recommended to consume a large amount in one sitting.
Probiotic and Fructo-oligosaccharides (FOS) in our meal replacement shakes Malaysia helps in regulating the activities of intestinal bacteria for digestive benefits therefore will improve your digestive system, cleanse your system and enhance immunity.
Each of our meal replacement shakes in Malaysia has been meticulously engineered to provide a broad range of minerals, protein and an incredible 100% to help you maintain a strong and healthy body.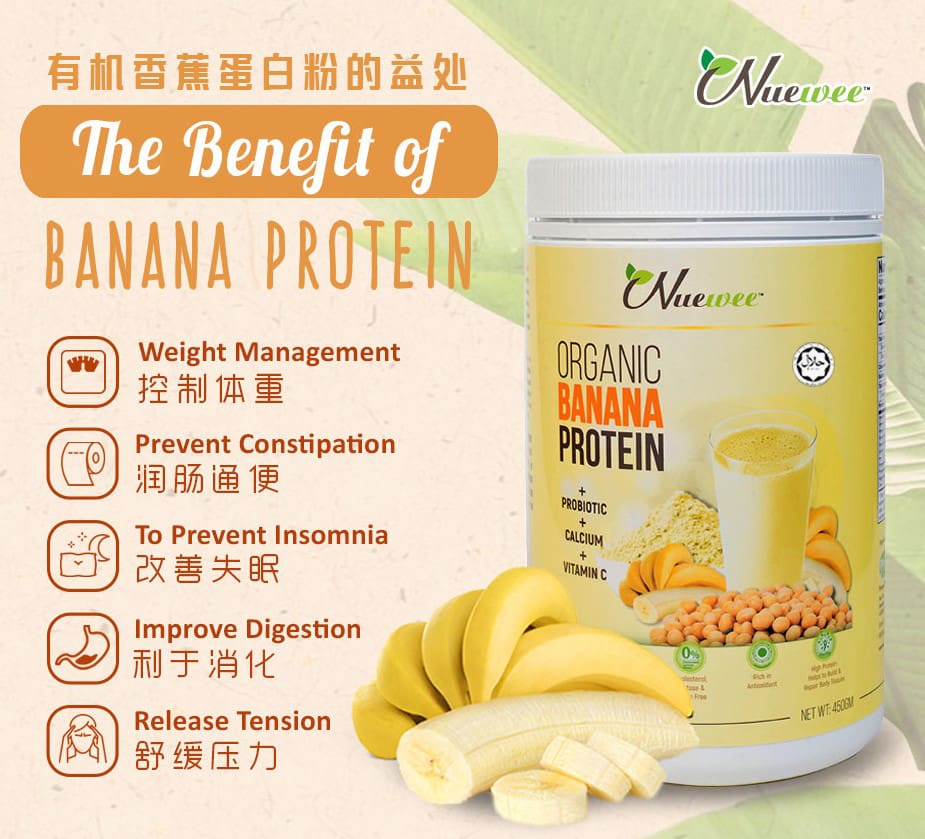 Nuewee Organic Banana Protein with FOS is suitable for:
Those who want to serve as meal replacement
Those who want to improve sleep quality
Those who want strong bone and joint
Those who want to improve Immune System
Those who want release tension
Those who have digestion and constipation problem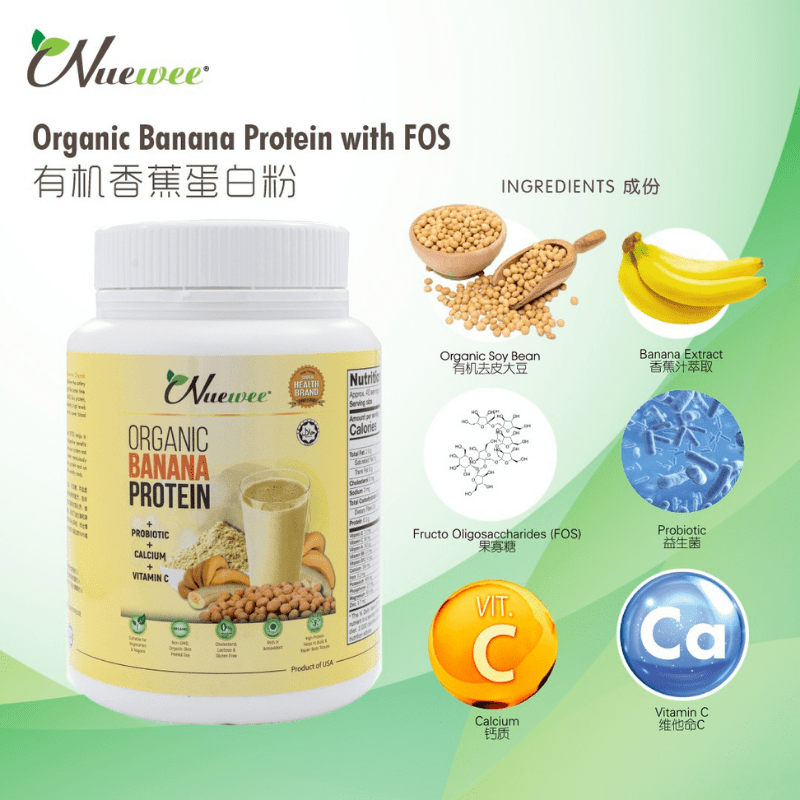 Ingredients of Nuewee Organic Banana Protein with FOS:
Organic Soybean Powder (Dehulled), Isolated Soy Protein, Banana Juice Extract Powder, Fructo-Oligosaccharides (FOS), Probiotic, Calcium, Vitamin C and Stevia Sugar.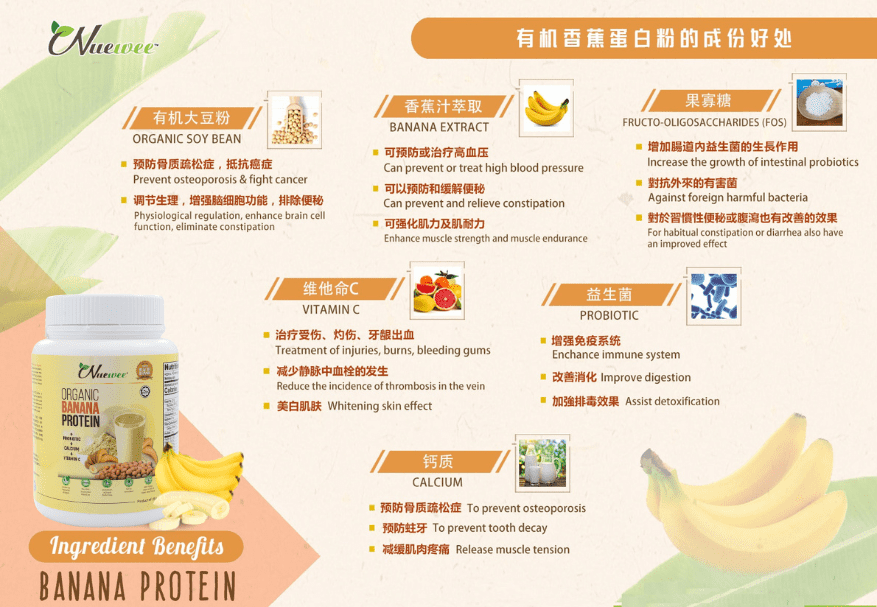 Recommended Serving:
Mix 2 scoops of Nuewee Organic Banana Protein with 200ml cold or warm water. Stir well and serve. Can mix with instant oat meal or other cereal as well.