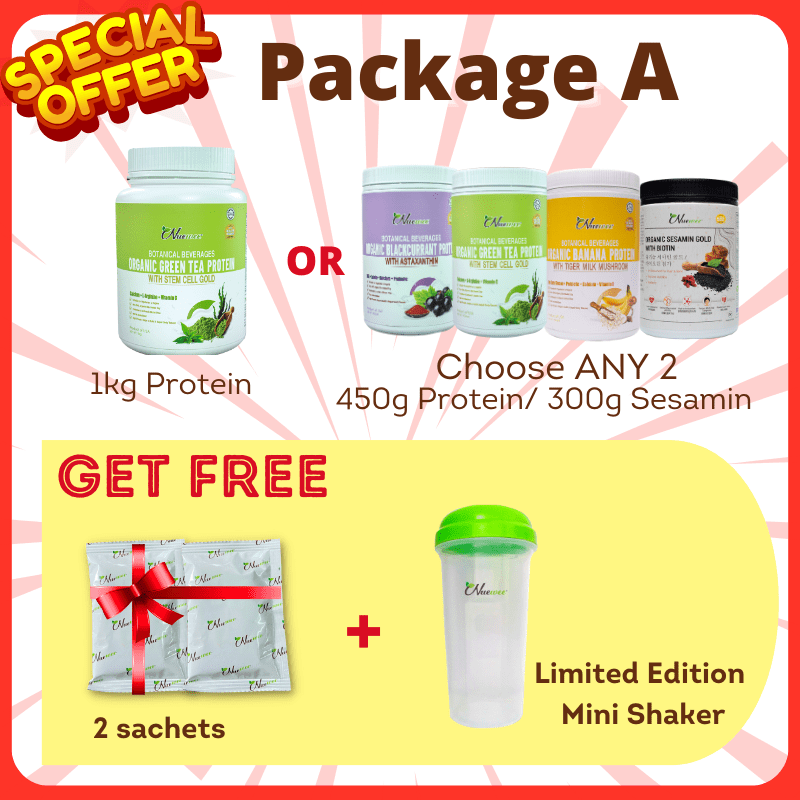 Nuewee Package A:
Purchase any 2 Protein (450g) / Sesamin Gold with Biotin (300gm) OR 1 Bottle of Protein (1kg) / Sesamin Gold with Biotin (650gm)
🎁FOC sachets X 2 (Worth RM12 )
🎁FOC Green Cap Shaker X1 (Worth RM6)
Enjoy Group Commission upto20% when sales accumulate above RM400 in same calendar month.
Shipping Fee (W.M): FREE SHIPPING
Shipping Fee (E.M) : RM15
Shipping Fee (Singapore) : RM15
Terms and Condition applied. While stock last!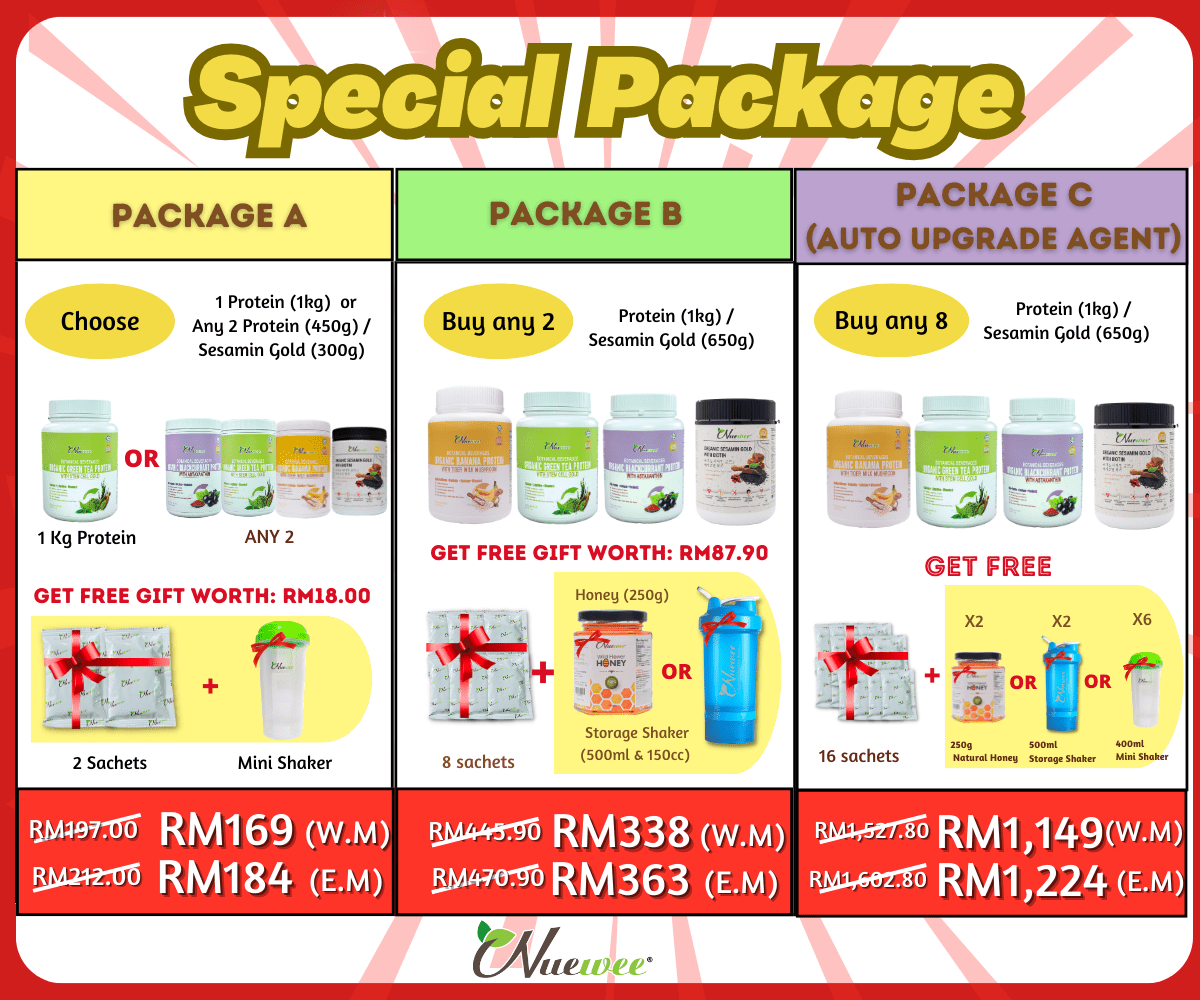 Benefits of Nuewee Organic Green Tea Protein with Stem Cell Gold
Lose weight
Boost immune system
Resolve dry, dark and aging skin problem
Reduce fat and cholesterol
Reduce pain and inflammation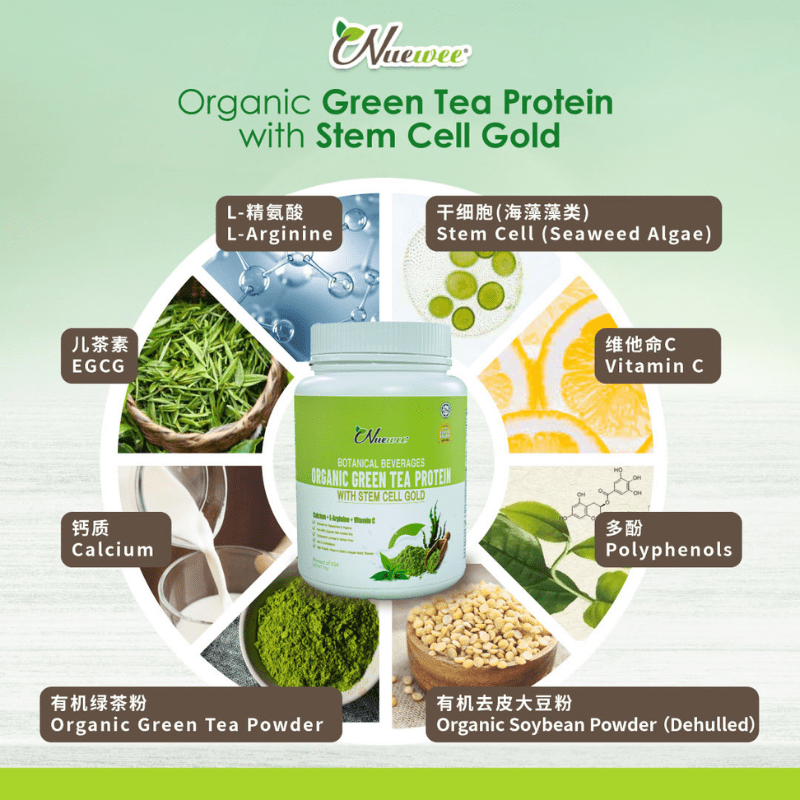 Benefits of Nuewee Organic Banana Protein with Tiger Milk Mushroom
Relieve respiratory symptoms such as sinus, cough and cold
Supports lung & respiratory health
Supports immune health
Relieves allergies & anti-inflammatory
Improve sleep quality & release tension
Reduce Bad Cholesterol
Control blood sugar level
Promote Gut health

Benefits of Nuewee Organic Blackcurrant Protein with Astaxanthin
Improve brain & memory function
Improve weak eyesight
Reducing swelling
Boost wound healing
Protect heart health
Improve skin's elasticity
Obesity and weight lost
Reduce and lighten pigmentation

Benefits of Nuewee Organic Pumpkin Seed Protein with Turmeric
Prevent Chronic Disease – Prevent Nervous system disease, Autoimmune disease, Arthritis, Diabetes, Alzheimer's disease, Cardiovascular disease, Cancer, Pulmonary disease and Osteoarthritis
Anti-viral effect – Help suppress virus replication (e.g. Hepatitis B, H5N1 and Covid -19).
Anti-aging – Liver protection, Skin protection, Eyes protection, Prevent muscle degeneration, Improve brain processing speed.

Benefits of Nuewee Organic Sesamin Gold with Biotin
Invigorate the Liver, Kidney and Enrich the Blood.
Assist in Stronger and Healthier Hair Growth
Detoxifies and Re-Energizes
Healthy Joint
Help Lower Cholesterol Level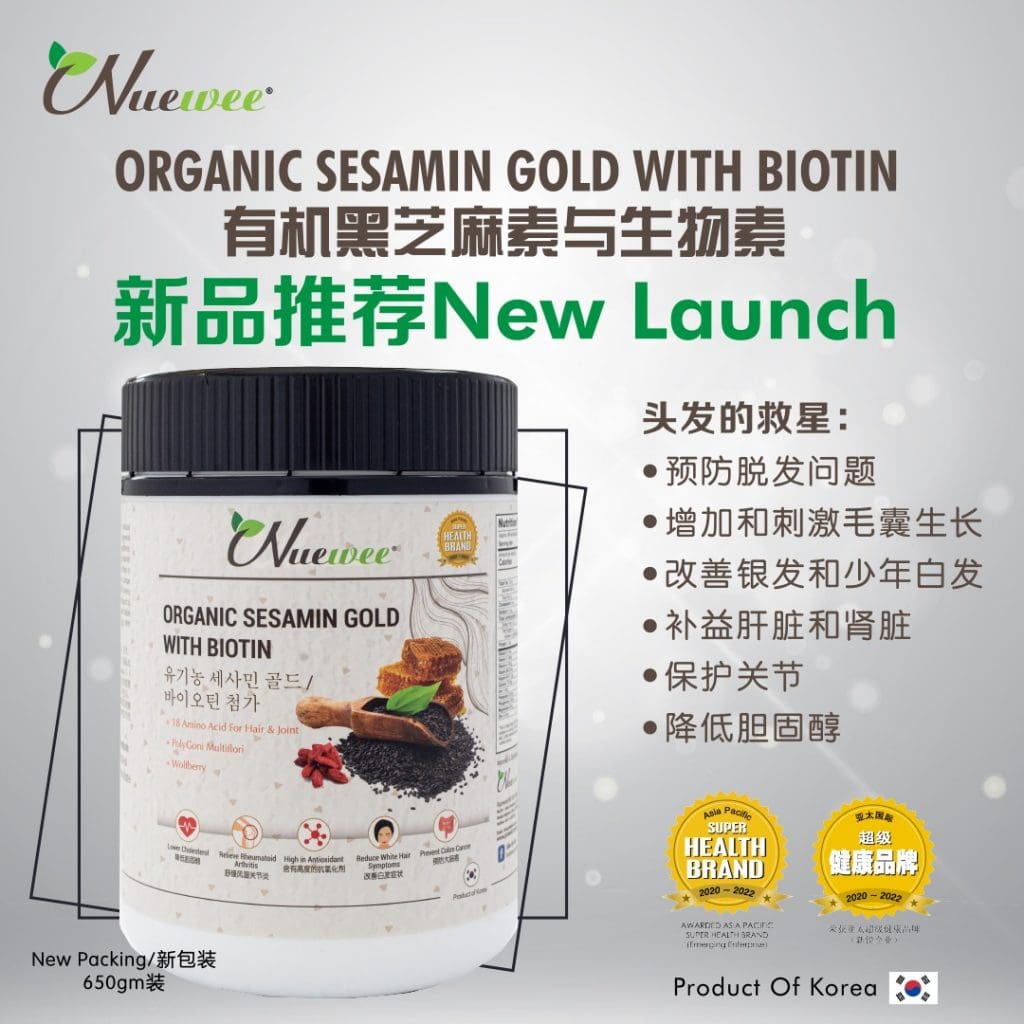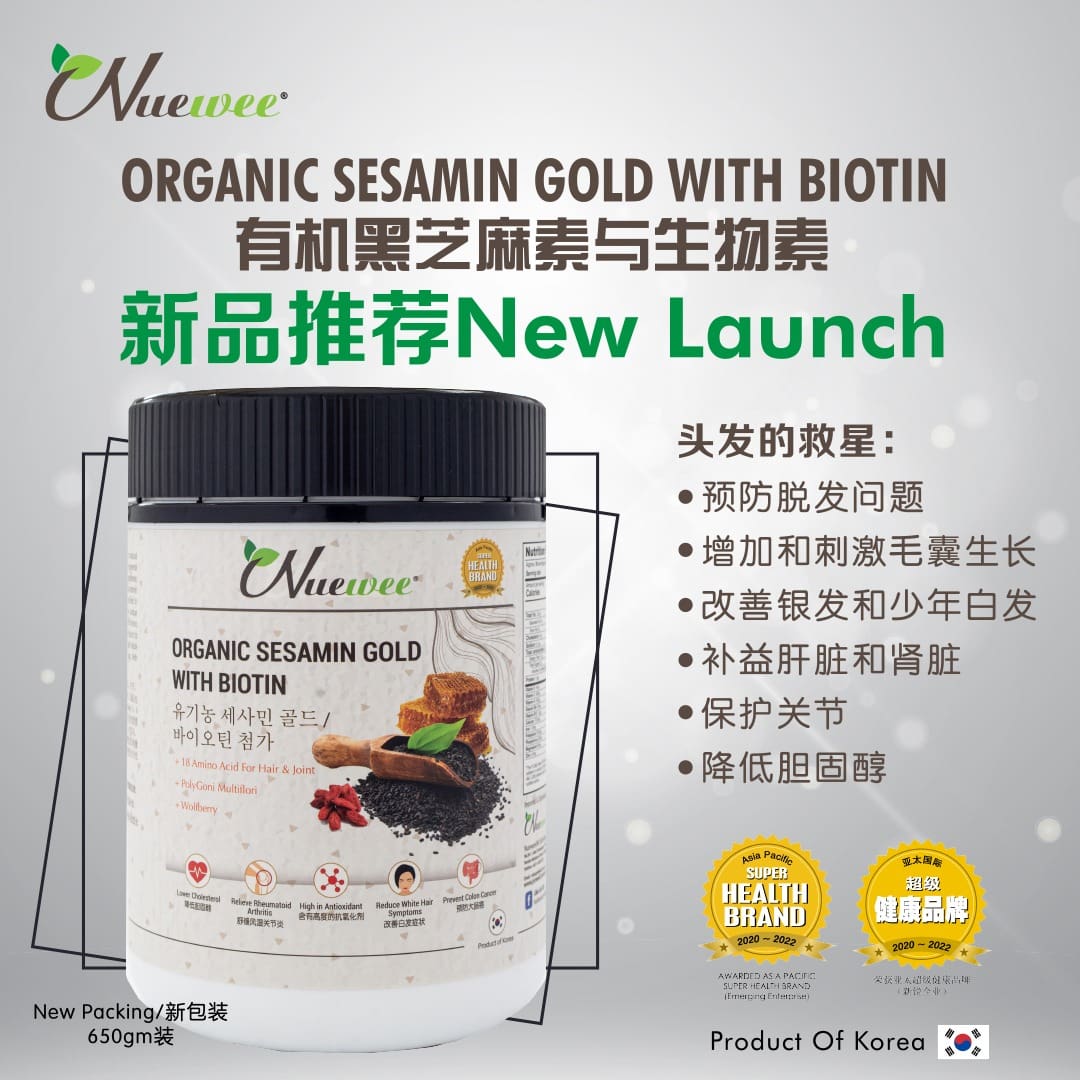 Mix & Match Recommendation:
Improve skin & Eyesight problem :
Green Tea Protein + Blackcurrant Protein
Improve sleep quality & immunity level:
Green Tea Protein + Banana Protein
Resolve constipation problem & other Health Issue :
Pumpkin Seed Protein + Banana Protein
Improved Skin Condition & Feel more energetic :
Green Tea Protein + Sesamin
Detox & Slimming :
Green Tea Protein + Super Green Juice