Nuewee Pre Order Organic Pumpkin Seed Protein with Turmeric:
     🎁To get 1 Pumpkin seeds Protein (450g) for FREE.
Original Price: RM422.90
Enjoy Group Commission

upto20% when sales accumulate above RM400 in same calendar month.

Shipping Fee (W.M): Free shipping for order above RM160
Shipping Fee (E.M) :
1 set:RM30
2 set: RM43
3 set: Rm61
4 set: RM79
5 set: RM98
Shipping Fee (Singapore) :
1 set:RM25
2 set: RM35
3 set: RM50
4 set: RM65
5 set: RM75
    Spend and Get:
🎁Spent RM200 or above FREE 4 sachets of Nuewee Organic Green Tea Protein (Worth: RM24.00)
🎁Spent RM500 or above FREE 10 sachets of Nuewee Organic Green Tea Protein (Worth: RM60.00)
🎁Spent RM900 or above FREE 1 Nuewee Organic Green Tea Protein (450G) (Worth: RM84.90)


3 Major Functions solve more than hundreds of health problems:

Control Chronic Disease – Prevent Nervous system disease, Autoimmune disease, Arthritis, Diabetes, Alzheimer's disease, Cardiovascular disease, Cancer, Pulmonary Disease, and Osteoarthritis
Anti-viral effect – Help suppress virus replication (e.g., Hepatitis B, H5N1, and Covid -19).
Anti-aging – Liver protection, Skin protection, Eyes protection, Prevent muscle degeneration, and Improved brain processing speed.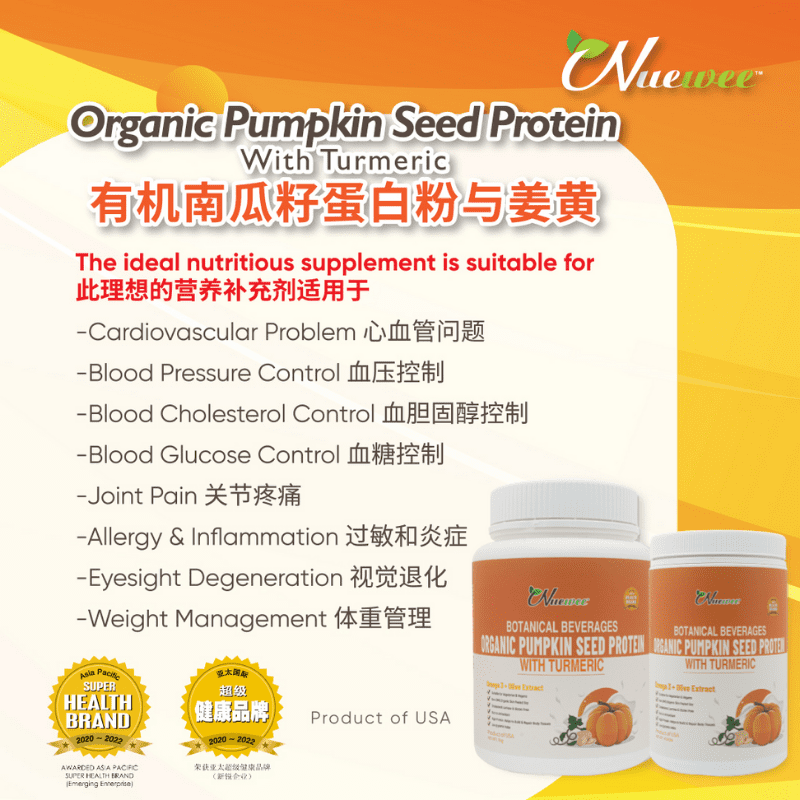 Nuewee Organic Pumpkin Seed Protein with Turmeric, vegan protein in Malaysia is appropriate for people suffering from:
Cardiovascular issue
Blood pressure issue
a problem with blood cholesterol
Problem with Blood Glucose
Joint discomfort
Allergies and Inflammation
Degeneration of vision
Obesity